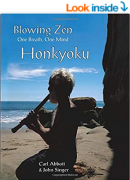 I began my latest book, Blowing Zen Honkyoku with the secret I found to playing honkyoku… playing it by heart. In Chinese,  心 xīn: the heart; heart; mind; feeling; intention; centre; core. Playing by heart permits you to close your eyes and devote total awareness to the sound until you touch the essence of sound… until you become the sound. Playing by heart also invites greater awareness on the breath.
Playing all the honkyoku pieces by heart would be impossible for most people, and certainly for me. However, playing a handful of the shorter ones by heart greatly deepens my overall intuitive sense of sound, which I then take with me when playing the longer honkyoku pieces from the sheet music. This makes sense, for the long honkyoku pieces are largely made up of the same notes that I play in the handful of the shorter play-by-heart honkyoku.
Playing by heart offers the opportunity to 'blow Zen' truly. By that I mean, playing them by heart demands more 'in the moment' awareness than playing off the sheet music. Of course, in the old days each temple had a small repertoire, one or a few, and no sheet music! I feel you will find an extra joy in playing by heart whichever pieces you can manage to learn.
I must admit, I have come late to learning to play honkyoku by heart. I could once almost play Hifumi by heart, but I soon got distracted and turned back to the easier path of playing from the sheet music. Why struggle to play by heart when I could more easily read the sheet music? Alas, no one ever tried to convince me otherwise.
I feel the greatest gift John Singer gave me was how he opened the 'play it by heart' door for me. He said he always warmed up playing Hifumi by heart, so I thought I should at least do that. This has been a honkyoku game changer for me… after 40+ years no less. Importantly, this wasn't at all as difficult as I feared. If I can do nothing else now, I sincerely wish to pass along this game changer to any others willing to give it a try.