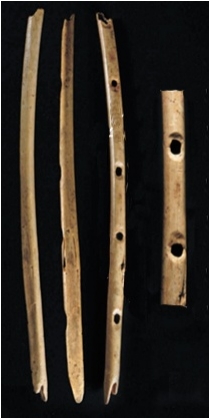 Google [Stone Age flutes found in Germany] for a report on people living in Europe 35,000 years ago who made this flute out of a vulture bone. It's shown here from three different angles with a magnified portion of the flute providing a closer look at two of the flute's finger holes.
As far as I can make out, it appears to be a simple end blown flute like the shakuhachi. The blowing technique is similar to blowing across the top of a bottle to produce a pleasant resonant tone. By placing holes in it, you can play a melody, or something melody-like in the case of Zen Buddhist Honkyoku.
It feels intriguing being connected to the musical tradition of an end blown flute that predates civilization by tens of thousands of years. Keeping that image in mind while I play my shakuhachi gives me a transcendent, if brief, sense of ancestral continuity. It reminds me of the Tao Te Ching chapter 14's, The ability to know the beginning of antiquity is called the thread running through the way.